DAMHUS-CORN DOG
A brilliant and clean idea: a hot dog on a stick, wrapped in crispy, crunchy maize dough.
Simply add various dip sauces, mustard, ketchup, etc.
Fruity, spicy, or sweet, ALWAYS TASTY!
About the history:
A corn dog is a US-American snack. It consists of a sausage wrapped in a layer of maize dough and deep-fried in hot oil (rarely baked), similar to a hot dog. Originally made without a stick, they are nowadays almost always served with a wooden stick that is normally round. Sometimes you may find mini corn dogs about the size of a plum. Corn dogs were first introduced in 1942 by Neil Fletcher at the Texas State Fair. The first "stick" corn dog was the Cozy Dog, first developed in 1946 by Ed Waldmire Jr. and his friend Don Strand. The Cozy Dog Drive In of Springfield, Illinois, still has the Cozy Dog on its menu today.
(Source: Wikipedia)
CORN DOG
suitable for all gastronomic concepts (from tapas to appetizers, finger food or as a snack) thanks to a selection of various sizes (20g – 75g varieties)
easy to handle, as pre-deep-fried
simple portioning with option to remove individually
quick and easy preparation: suitable for deep fat fryer, oven, combi-steamer, microwave
long-lasting if frozen, no stock shortages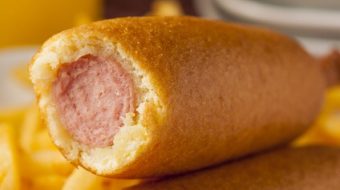 For our DAMHUS corn dogs we only use meat of the highest quality.
This is what we are known for – far beyond the Münsterland region! All the way from the animal feed to the merchandising at the grocery store, our products are subject to constant control.
Product information
| | |
| --- | --- |
| Product description | DAMHUS-CORN DOG |
| Best before date from date of production | 300 days / 360 days |
| Type of packaging | cardboard box |
| Dimensions in mm l x w x h | 160 mm x 115 mm x 55 mm |
| Intestine/casing | tender natural casing |
| Information on refrigeration | storage below – 18°C frozen |
| Product description | hot dog on a stick with dough wrap |
| List of ingredients | Ingredients sausage (50%): pork and beef (90%), bacon, potable water, iodised nitrite curing salt (iodised table salt, preservative: sodium nitrite), spices, dextrose, glucose syrup, stabiliser: sodium diphosphate, antioxidants: ascorbic acid, sodium ascorbate, acidifier: glucono-delta-lactone, edible casing, smoke. Ingredients dough wrap (50%): flour (wheat), semolina (maize), potable water, sugar, vegetable sunflower oil, table salt, raising agent: diphosphates, sodium carbonates, egg yolk powder |
| Ingredients in accordance with Regulation VO (EU) Nr. 1169/2011, allergens | gluten, egg |
| Ingredients in accordance with Regulation 1829/2003, No. 1830/2003, genetically modified food | none |
Nutritional information, analytical parameters chemical
energy
KJ: 1286, Kcal: 308
fat
of which saturated fatty acids
17,4 g
5,7 g
carbohydrates
of which sugar
27,6 g
4,4 g
protein
10,2 g
salt
1,7 g
Please note: The values given refer to 100g and are subject to natural tolerances.
Besides protein, meat contains many vitamins of the vitamin-B-complex, Vitamin A and D as well as the minerals sodium, potassium and iron. If we consider sausage products as a source of iron, then it becomes especially important compared to other types of food. Compared to vegetable food sources, meat sourced iron offers greater availability. The white poultry meat, as it is used in our products, contains considerably less fat and more protein compared to muscle meat cuts of beef. In addition, the vitamin content of group B and C, niacin, as well as the minerals magnesium, iron, phosphorous, and sodium is comparatively high.
Ernährungsphysiologische Hinweise zu unseren Produkten
Product range information
| Article no. | EAN | Weight | Packing unit | Casing | Calibre | Pieces per carton |
| --- | --- | --- | --- | --- | --- | --- |
| 89036 | 4011554890364 | 30 g | 6 x 30 g | tender natural casing | 20 | 12 |
| 89055 | 4011554890555 | 50 g | 5 x 50 g | tender natural casing | 20 | 12 |
| 89306 | 4011554893068 | 30 g | 60 x 30 g | tender natural casing | 20 | 60 |
| 89505 | 4011554895055 | 50 g | 50 x 50 g | tender natural casing | 20 | 50 |

All DAMHUS sausages are glutenfree, as always! And DAMHUS bockwurst sausage and Polish sausage products are also lactose-free!
We have assembled detailed information on nutritional values, packaging units, and article specifications extra for you.
News, tips and tricks for the barbecue season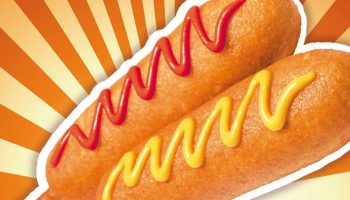 Award for the bratwurst sausage specialist!
more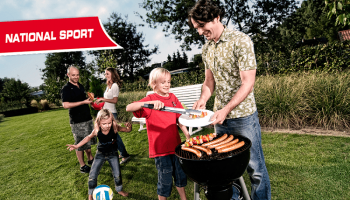 For some it is a sport, for us it is the greatest time of the year: We provide you here with useful tips, tricks & infos for a proper barbecue!
more